In 2016 I accidentally went to Paris by myself for two weeks. I was supposed to go with a friend. She speaks French, she was to be my tour guide, I was going to stay with her in France for one week before venturing out on my own for the second week. But her plans changed, so I booked a hostel by the canal in the 19th Arr. and started studying Paris metro maps. And French.

I did not get very far with the French, though "Bonjour"(hello), followed by "Est-ce que vous Comprenez l'Anglais" (Do you understand English?) got me most of the way, and by the end of my stay I could order hot chocolate and ask where the Seine was. 

I met many cool people, mostly international travelers. I went for a long walk along the canal with a dude from Korea, and we conversed through Google Translate. He did not hesitate to ask me about being trans, as this was new to him but he could tell that I was different.

The translation was not perfect but we settled on "body of female, mind of male." He accepted this and we moved on to drumming. By the end of our few days in that hostel he was playing and reading drum music!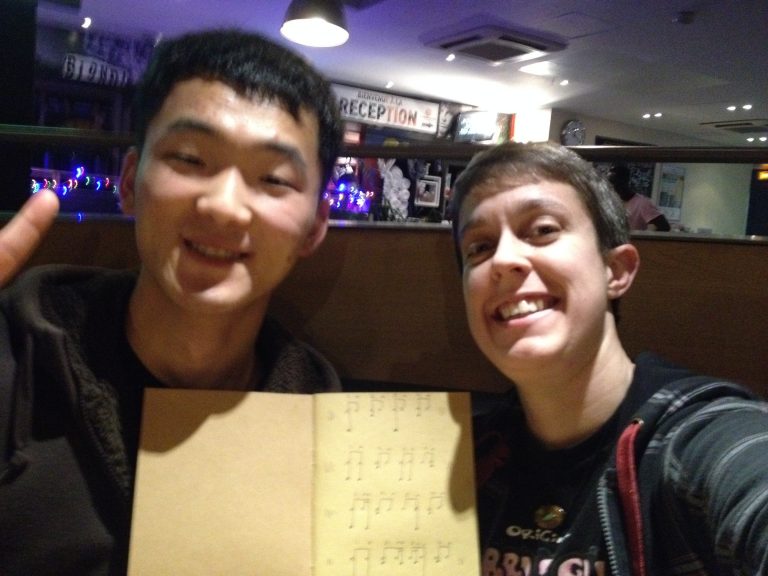 After four days by the canal, I decided to stay in the Latin Quarter. Young and Happy Hostel was my home for the remainder of the trip. There were croissants and coffee every morning, and even the croissants that sat out all day until 9pm were better than any I have encountered in the U.S.

The hang out area was cave-like and perfect for all kinds of discussion with new friends. My roommates and I explored the local wonders. My favorite view of Paris was from the top of the Cathédrale Notre-Dame de Paris – just high enough up to see everything, but people on the sidewalk didn't look like ants.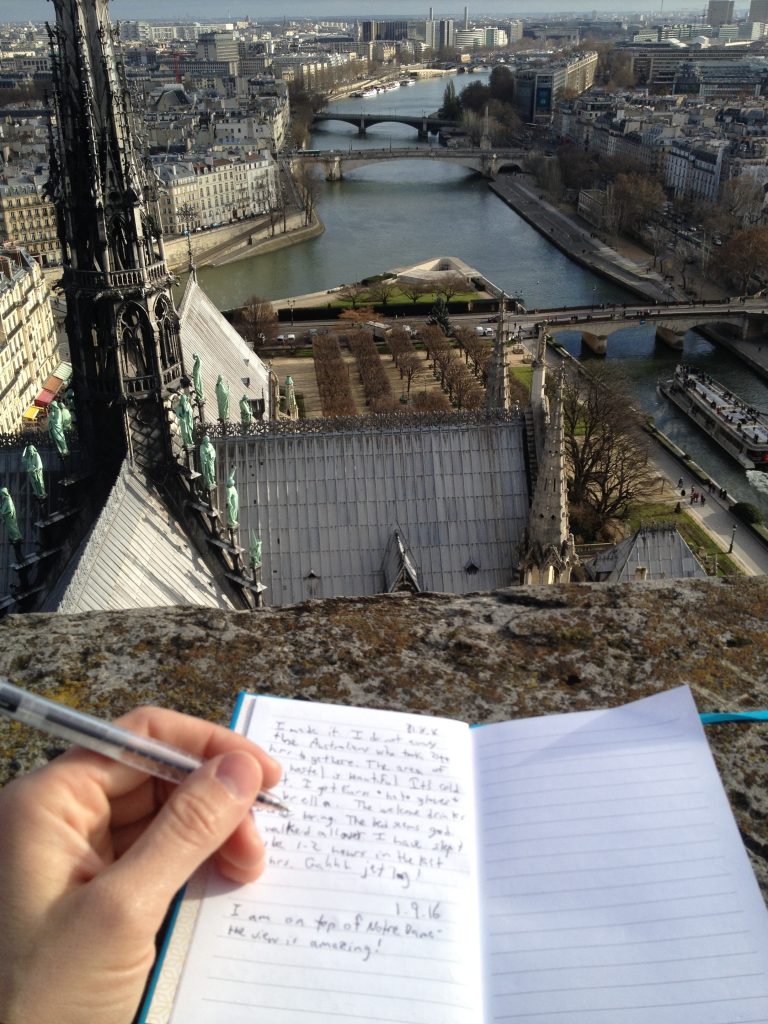 One of my coworkers told me that I must go to the Musée Rodin. I went by myself. I took the audio tour. I stumbled upon the Monument to Balzac.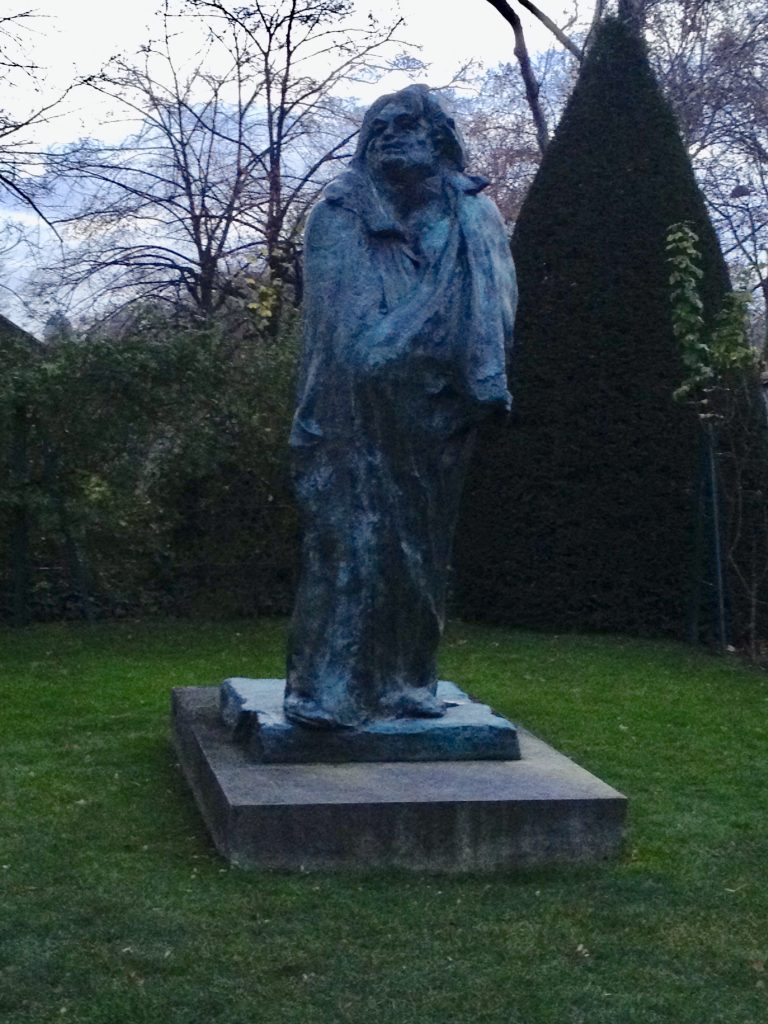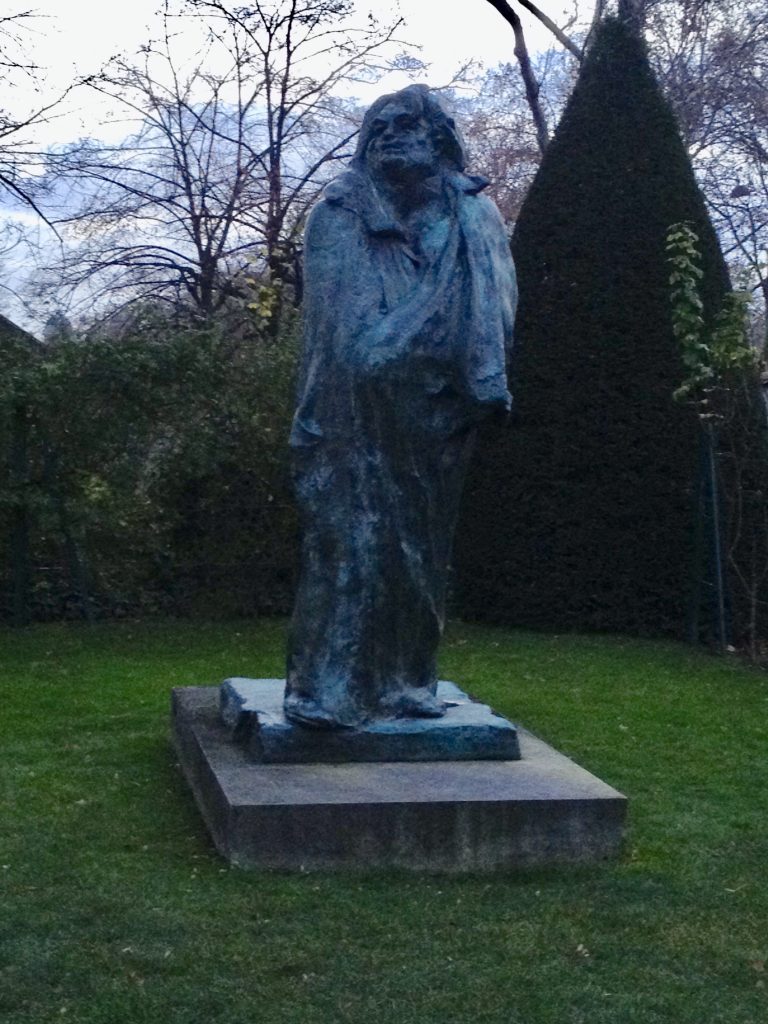 Walking by this statue I was not so impressed, but the audio clip was pretty interesting. Rodin had been hired to create this statue in memory of French novelist and playwright, Honoré de Balzac.

Rodin took way too long to do it and the finished statue didn't even look like the guy. The writers society that had commissioned the work ultimately rejected it and Rodin kept the sculpture for himself. 

The statue is pretty ugly at first; it kind of looks like a blob with a face made out of mud. Granted, I was viewing it in low lighting, in the garden after the sun went down. But the significance of the piece is that Rodin tried to portray the essence of Balzac, rather than his physical likeness.

Rodin had studied the life of Balzac prior to crafting the statue. He visited the places Balzac had frequented, spoke with people Balzac knew, and tried to discover what the man was really like.

In the end, Rodin created a portrait of everything the writer was made of, including a writing cloak very much like the one worn by Balzac. 

This sculpture and its background had an immediate and profound impact on me. I went to a coffee shop, ordered hot chocolate (in French, despite the English greeting offered by the barista), and wrote out my thoughts.
This is what I came up with, and I refer to it frequently:

Don't stay comfortable. Discomfort facilitates growth.
I need less stuff than I think I do. Overcome. Persevere! 
Make it happen.
Learn about the world. Know things.
Become mature. The time is now – seize the day!
Be prepared, not over prepared (overburdened.)
Become who I am. Be in the environment I want to become.
Go to the places I want to make a part of me.
Contribute thoughts and actions that I want the world to have.
Do things I want to be known for.
My life is who I am, what I am made of, my surroundings, 
How I present myself, whether I seem elegant or rough, 
Where I keep myself, where I visit, where I frequent,
My contributions to the world, the things I am known for,
The things I make happen,
The way I treat others,
My willingness to try – persevere – win!
This is the life I have chosen! 

Look upon the world with wonder.
Eliminate excess. Work hard.
MAKE IT HAPPEN.
Don't stay comfortable.  

Shortly after this trip I left my comfortable job and went to school for early childhood education. Best decision I could have made. My coursework led me to do several observations at different childcare facilities and it was through these observations that I found my perfect preschool – so perfect that I decided to volunteer there as a music teacher while I was still in school. I finished the ECE program in December 2016, and in January 2017 I was offered a position at that preschool. 

I am now "contribut(ing) thoughts and actions that I want the world to have" through my interactions with the children. I feel so privileged to work with these youngsters and their families and all of my wonderful colleagues. 

When I travel I send photos of my adventures so the kids can see that there are different things out there besides the things they are surrounded with. They loved seeing the different trains, planes, and boats (and a funicular!) that I encountered on my trip to Norway. Their current interest in transportation might lead them to inquire about other differences between "here" and "there".  

I am so lucky to have a job where I get to interest people in wanting to know more about the world.